Looking south towards Croagh Patrick across Clew Bay from the beach in Mulranny as the sun was setting in the west.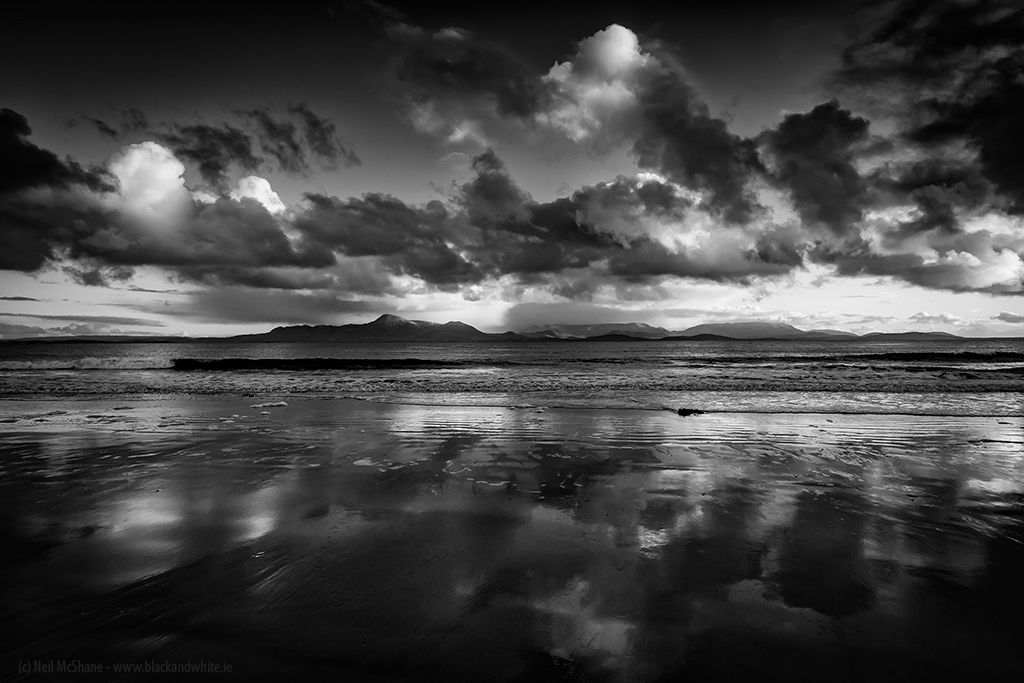 Anybody says that a Black & White image can't do a sunset justice, point them in this direction, as I believe this image has all the elements needed to prove them wrong.
I had a feeling.....
After a long day driving and shooting all over on Achill Island, it was time to get back to the hotel and relax a bit before dinner. You drive through the village of Mulranny from Achill to Westport, my base for this trip. I usually do a de-tour right and head down to the beach but this time I didn't as dinner was calling. However I had a chance to get a quick look while I was driving through Mulranny because of slow traffic and something just clicked. Stopped the car the did a U-turn back to the beach. Jumped out and got the camera from the boot and ran down the slipway towards the shoreline as the light was changing fast. The setting sun was going to be blocked by a big bank of dark rain clouds. No time for filters and tripods so had to get this image handheld. Not Bad if I do say so myself. I love all the different tones in the clouds in the sky and their reflections in the foreground on the wet sand.